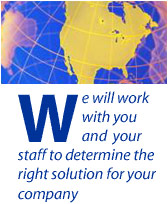 Local Service
Telecom Source Group offers a variety of dependable, feature-rich Local Service options that will fit your company's individual needs and budget. Our knowledge and experience in helping customers with complex local dial requirements allow us to make appropriate, "carrier-neutral" recommendations for your company.
• Single Business Line: Features to simplify your business calls such as Call Forwarding, Call Transfer and Three-Way Calling can be added.

• Direct Inward Dial: Provides a private phone number for each designated employee that goes directly to his or her desk, without the need for an attendant. A customer with a PBX does not need a dedicated line for every employee. DIDs use a pooled trunk group for incoming and outgoing calls, saving time and reducing costs.

• Digital Trunks: A scalable solution that offers the functionality of a full local service T1 without the cost. A full T1 is delivered, but your company only uses and pays for a specified number of trunks. If your company currently has 12 business lines or more and a PBX, this solution could help cut costs through increased efficiency.

• ISDN PRI Local T1 Service: A service that allows for high-speed data and voice transmission on a single T1. Each channel on the T1 will transmit a full 64K instead of a normal T1 that transmits only 56K. This is the perfect solution for modem use, video conferencing, fax lines, and other data applications.

•

New Technologies: Innovative technologies are available through various carriers that will allow you to split internet or data services with voice over a single T1. Some of these allow for dynamic allocation of unused voice lines to be directed to the Internet. This new technology allows for efficient use of a T1 by making sure all channels are occupied with a specific purpose.