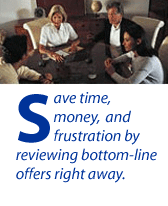 About Us
Telecommunications Source Group is an independent consulting firm offering innovative and cost-effective telecommunications solutions to our clients. We operate within the highest standards of integrity, excellence, and performance on behalf of you, our customer. Telecom Source Group provides an assortment of competitive voice, Internet and data solutions through a variety of established providers that will suit your company's individual needs and budget.

Our extensive client list includes Fortune 1000 companies that specialize in technology, manufacturing, law, energy, internet services, healthcare, insurance, and finance. With 20+ years of experience in providing data and voice solutions in the telecommunications industry, we act in your best interest, as our client, by providing the following services without cost to your company:
• A single point of contact that will act on your behalf to drive service and billing issues through the life of the contract and beyond.

• Listening carefully to your business needs and concerns to properly assess your company's unique situation.

• Offering an assortment of competitive, cutting edge solutions through different providers that suit the unique needs of your business and budget.

• Providing an unbiased, "carrier neutral" assessment of each solution and provider showing the strengths and weaknesses in each.

• Careful, experienced coordination with each vendor and client contact to ensure a smooth installation process.

• Aiding in recovering disputed telecom charges.

• Assisting with outstanding current service issues and help with resolution.

• First bill review to ensure contracted billing.

• Ongoing support to monitor services, assess and aid with new needs as they arise, and introduce new technologies as they become available.