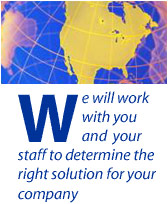 Contract Optimization
As a representative of your company, you want the carrier contract you sign to provide the shortest term, at the best price, and at the lowest commitment level available. Your direct carrier rep has the opposite goal: To get your company to agree to the longest term, at the highest price, with the highest commitment level.
Telecom Source Group will help you save time, money, and frustration in the selection process by presenting the bottom-line offers right away. This will allow you to decide which carrier will best suit your company's needs and budget without going through the headache of negotiating back and forth with different direct carrier reps.
Here are the steps Telecom Source Group will take to ensure contract optimization for your company:
• Analyze your current telecom infrastructure to find out what works and what needs improvement.

• Find a comprehensive, innovative telecom solution for your company that includes all services required: voice, data, Internet, conferencing, etc.

• Generate a list of carrier partners that will offer the right solutions.

• Negotiate on your company's behalf for the best term, price, and commitment level available through the various carriers.

• Provide implementation support and service through the life of the contract.