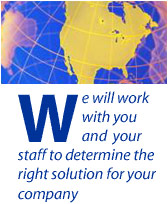 Internet Services
Choosing the right ISP can be a challenge. With all the changes in the Industry it is hard to keep up with which provider is the best right now for your company's individual requirements and budget. How do the service level agreements with each carrier compare? How are outages handled? What are the carriers' domain name policies? Are their networks pro-actively monitored?
Telecom Source Group will act as an extension of your inside telecom group in helping you decide through presenting solutions and choices that make sense.
Internet Services range from DSL to OC products:
• DSL: Digital Subscriber Line utilizes an ordinary copper phone line to transmit Internet service. Bandwidth available can range from 128K to 4Mgs +, depending on the plan and proximity to the central office.

• ISDN BRI: Banding 2 copper lines together to create a 128K circuit, this service can be used in remote areas where DSL and broadband cable are unavailable.

• Tiered T1 Service: The T1 can be set at a specific bandwidth level: from 128K, 256K, 512K, etc., to Full 1.536 Mg.

• Flex T1 Service: This Internet T1 option allows for a company to have a full T1 available if needed, but only be billed for what is used on an average over the course of a monthly period.

• Full T1 Service: 1.536Mgs of bandwidth.

• T3 Service: 45 Mgs of bandwidth. Flex and tiered options are available.

• OC3 and beyond: 155 Mgs of bandwidth. Flex and tiered options are available.